Bridging faiths – Rosie Hoban
Sister Cheryl Camp rsm has never shied away from a challenge. Like many Sisters of Mercy through the decades she has packed up and gone where ever she was needed, no matter how remote, or foreign, the place may be. Whether it was to Papua New Guinea, Pakistan or the Kimberley, Cheryl has embraced each ministry with passion as well as with a sense of adventure. Her current work, while close to home, and in comfortable conditions, may well prove to be just as challenging as her earlier work.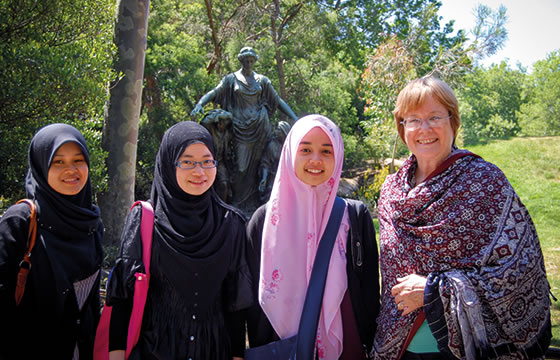 Cheryl, a member of the Mercy community, is serving on the Catholic Archdiocese of Melbourne's Ecumenical and Interfaith Commission and working on her PhD on Islamic Studies, Towards a Model of Christian-Muslim Women's Interfaith Dialogue in Australia. Cheryl's academic pursuits inform a great deal of her work which appear in various publications of the Sisters of Mercy among others. But it's her personal mission to promote Christian-Muslim harmony that underpins so much of her work and how she sees the world around her.
'I think fear comes from what we don't know. Once we are familiar with people, their religion, culture and traditions, our fears can often melt away', Cheryl said.
Strangely, it is Cheryl's earlier 'adventures' around the world that have prepared her for the work and study she is now doing in Victoria. Born and raised in Townsville, Queensland, Cheryl was educated by the Sisters of Mercy, joined the novitiate and was professed in 1967. She then spent a few years teaching in the area, including at her alma mater, St Patrick's College.
In 1974 Cheryl headed north to Papua New Guinea where for 11 years she worked as a primary and secondary school teacher and pastoral worker, and ran a renewal centre for religious congregations. Some of her time was in Port Moresby, but most of her stint in PNG was in a remote mission station called Negrie, where she 'was awakened by the differences' of the people with whom she lived and worked.
'I developed a deep sense of respect for people of different cultures and their sense of humility and sense of the sacred. They showed such welcome and hospitality', Cheryl said. 'I learned so much because I think there was a sense of going to save others, but I was put in my place and I soon realized that we white people do not have the answers to everything.'
In between PNG and her next big move to Pakistan in 1992, Cheryl worked as Formation Directress in Townsville and gained a Bachelor of Theology. Going to Pakistan wasn't planned, but her congregational leader said she was needed, so she flew half way round the world, to the city of Gujrat in the Punjab Province. In Gujrat she lived and worked in a compound that housed the Catholic community's school, Church, hospital, nurses' quarters, shops and a Mercy hostel. Cheryl ran the Women's Development Centre for young Christian women who had received little education and who needed to gain skills for marriage. Some young Muslim women also attended the Centre's courses. The inclusion of Muslim teachers, students and many Muslim people living in and around the compound, was a watershed experience for Cheryl and arms her in her work today.
'For the first time I gained an insight into the richness of Islamic spirituality, particularly the mysticism of the Sufis, and the goodness of the people', Cheryl said. She acknowledges that not all Muslims embrace this spirituality of peace and compassion, but her experience over the decades makes her confident that the vast majority of Muslims around the world, including in Australia, are not to be feared.
It was also during her time in Pakistan that Cheryl experienced being in a minority and the sense of fear that can bring. Like most Christians in Pakistan then and today, she lived with fear about blasphemy laws. She was vigilant about what she said and did, particularly outside the Christian compound. But if they ever did have any problems, Cheryl was always overwhelmed by the support from Muslims and non-Muslims alike in Gujrat.
'The people have an extraordinary sense of hospitality towards you regardless if they are rich or poor. If they are poor, whatever they have, they want to share, particularly food.'
Cheryl was one of the last Sisters of Mercy to work in Gujrat, heading home in 1998. She worked for a time in the Kimberly. Then in 2005, while visiting another Mercy Sister in a remote area, news of the London bombings appeared on the television.
'I suppose I felt called to work on creating dialogue between Muslims and Christians, though I wasn't sure at that stage what that would mean', Cheryl said. 'I thought I would move into an area where I would work directly with Muslims, but my congregational leader suggested I do some study. So I did a Certificate in Islamic Studies that led to my Masters and now to my doctorate. The study has revealed to me how very little we know about Islam.'
Cheryl believes this lack of knowledge is at the heart of fear and suspicion of Muslims.
'Suspicion of Muslims certainly is the flavor of the day if you look at the media and there's no denying what is happening around the world in the name of Islam. But Muslim leaders around the world are saying "no, these terror attacks are not right; they are not the real Islam", but their voices are not widely reported.'
Cheryl's work in creating Christian-Muslim dialogue is not about converting people, but rather 'convening' and joining together. She knows only too well the importance of hospitality and how that can help people feel accepted and respected.
'I think within our parishes there might be opportunities to invite Muslim people to an event where each faith tries to learn and teach. But it is up to all of us. Some Muslim women now feel afraid living in Australia because of hostility shown by some people. But each of us, walking past a woman, who we can see is a Muslim, could just smile at her. I think you would see some of her fear melt away.'
'It can be the smallest of things that can make the difference.'