Faith & spirituality in review – Andrew Hamilton SJ
Gerald O'Collins SJ, Letters to Nevie: Learning from the Scriptures, St Pauls, ISBN 9781910365120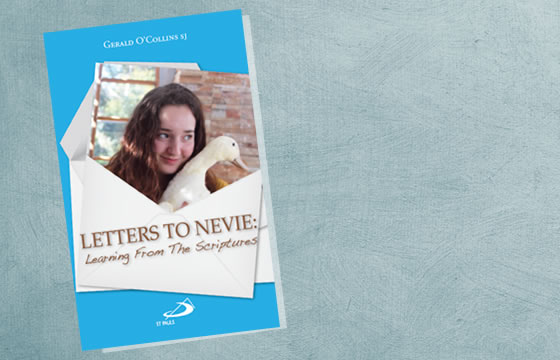 By any measure Gerald O'Collins has been a prolific author in his life as a world-class theologian. In what one believes is his 66th published book, we see the consummate teacher writing a series of beautifully crafted letters to his teenage grandniece, Nevie. Worried when she went off to boarding school that 'she might be lonely', Gerald decided to send her a letter 'every week or two'–developing biblical themes from Genesis to the Gospel of John.
I can hear people asking themselves the question: how can a high flying grand uncle theologian expect to ease the potential loneliness of his grandniece at boarding school by writing to her about the scriptures? Well, it is clear from the book that they have a very close relationship. In the very interesting postscripts appended to each chapter, Gerald shares some of his day-to-day experiences with Nevie.
While the author intends that the book be written for 'adult readers with youthful minds', there is a simplicity and clarity about the writing that helps him achieve this goal. As someone relatively familiar with the scriptures, I was delighted to discover many new perspectives on material I have journeyed with over the years.
Although the Old or First Testament is given less coverage in the book, there is still a wealth of helpful ideas elaborated for us. In Genesis 3 we are reminded of the importance of accountability and the old axiom that actions have consequences. Genesis 11 and the Tower of Babel is a parable about the richness of difference.
Bringing together Moses and Jean Vanier, Gerald talks about the paralysis of fear and the importance of remembering God's constant company with us throughout life. 'Nevie, a wise old slogan says; "If there seems to be no way out, let God in." '
When Gerald O'Collins transitions gently to cover the New Testament for Nevie, there are many more pearls of wisdom shared with her and us his readers. In writing about the Our Father, Gerald offers a new thought (new at least for me): 'Forgiving others is always hard. Have you ever noticed, Nevie, that the word "forgive" is a longer, stronger form of the word 'give'? Giving can be easy … but for-giving is always hard.'
As he works his way through the four Gospels, the author continues to provide helpful images of Jesus: his vulnerability in Matthew 8; his role in a different musical key within the Trinity in chapter 11; his identity in chapter 16 and, like Peter, 'we find our deepest and lasting identity in our relationship of love with Jesus' – a relationship we re-affirm each time we participate in celebrating the Eucharist.
In treating Luke's Gospel, Gerald remarks about the great missionary chapter 4 that the people of Nazareth 'can't share the largeness of mind that Jesus shows.'
Finally, the Gospel of John enables us to hear the voice of Jesus in a different tone. With Jesus, 'losing means finding', but he calls us all 'friends'. 'His words make us his friends. Each of us can take great comfort from the thought, Jesus has called me his friend.'
I believe preachers, teachers, and students alike will find this little book very helpful in its refreshing approach to the scriptures. I recommend it highly as a delight to read.