Being with God in nature – Peter Saunders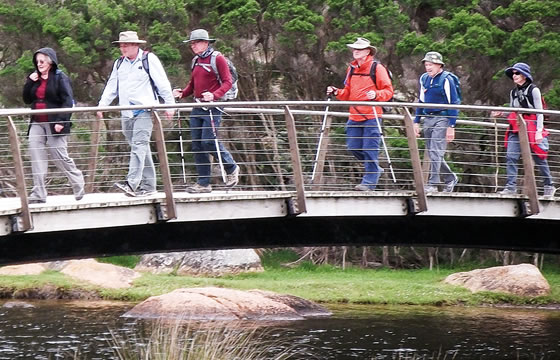 'The universe unfolds in God, who fills it completely. Hence, there is a mystical meaning to be found in a leaf, on a mountain trail, in a dew drop, in a poor person's face.' Pope Francis. Laudato Si, n.233.
For many years, I have been a bushwalker, experiencing different parts of the Australian landscape – from the High Country to the Outback; coasts, islands, ancient trails and sacred places; alone and with my adult children. Every year, I make a silent retreat in nature in different parts of Australia. Gradually I have come to know the presence which is God in the Australian landscape and to appreciate what the Australian Indigenous people have known for some 50,000 years: that the land is sacred.
After a pilgrimage to the Flinders Ranges with Catholic Earthcare Australia in 2014, I was inspired to offer walking retreats into the Australian wilderness from Campion Centre of Ignatian Spirituality, where I work as a Spiritual Director. I raised the idea with the Campion Spirituality Team – Iain Radvan SJ, the director at Campion (also a bushwalker) offered to assist, as did Helen Lucas who had recently walked the Ignatian Camino in Spain.
To encounter God in nature can expand our image and experience of God, 'letting God out of the box.' It can help participants to reflect on their relationship with the sacred Earth and how they want to live with her in their life.
Our first offering was the Wilderness Retreat in November 2015, a five-day walking retreat in Wilson's Promontory National Park. Out of this Campion has developed a ministry team for Being with God in Nature, offering Walking with God in Nature Prayer Days around Melbourne, and the Wilderness Retreat again at Wilson's Prom. This year the Wilderness Retreat will be in the Grampians and we will also offer an eight-day Emmaus walking retreat in Gippsland.
The challenges include doing the logistics research on each Prayer Day Walk and Walking Retreat to ensure that the walks are safe, well-resourced and organised. We try to offer the widest possible access for different levels of fitness. And then we invite all people to spend some time walking contemplatively in nature.
The Prayer Day Walks and the Wilderness Retreats have attracted people from different age groups – from young adults to people who are retired, including people who don't go to church. Feedback has been hugely positive.
Here is how one participant described experiencing the Wilson's Prom Wilderness Retreat:
'Today I walked with God the Creator enveloping me, sheltering me, sustaining me. I walked with God the Son, Jesus as my companion on the way who whispers to me, 'Let's have a conversation, let's be in each other's company.' I walked with God the Holy Spirit who is energising me and the whole of creation today; prompting, reaching into the depths of my soul. I walked through an arch of tea tree. As I approached it I stopped to acknowledge the special nature of this space. It looked like a gothic lancet window. Walking through this arbour I felt so blessed.'
Each retreat is special; each is different. God never ceases to amaze, delight and surprise us.
For more information click here.