The mother's heart – By Clare Deignan
Dear Charlotte, This letter I won't give you until you are much older, but I write it while the thoughts are fresh in my mind. You won't realise how wonderful – and trying – motherhood is until you become a mother yourself (if that's what life and God have in store for you).
Once the midwife handed you to me, I realised there was nothing more delicious than your chubby cheeks and little hands. Now you're a toddler, I feel extraordinary joy every time you learn something new or giggle uncontrollably.
But there are hurdles that are wrapped into motherhood beyond the physical, mental and financial demands. The biggest one for me is guilt: guilt that I'm working; guilt that I'm not working/earning enough; guilt when you went to childcare and guilt when you're not in childcare. And it's a weird sort of guilt, because it sneaks up on me even when I feel I am doing the right thing.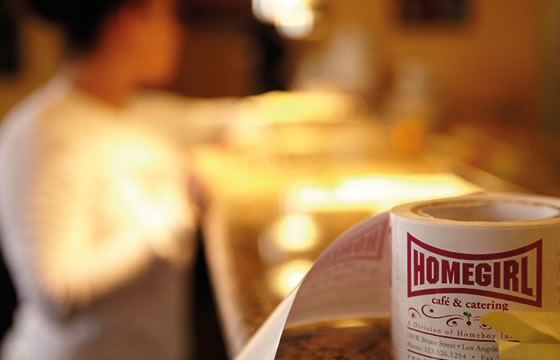 The good news is I'm not alone. I recently spoke with the mother of a 17-year-old who says that the curse of motherhood is the plague of guilt when you do and even when you don't.
I had to laugh. We are all the same.
This mother's name is Inez Salcido. The reason I want to share Inez's story with you is because it's a little different.
Inez works at Homeboy Industries in East Los Angeles, because she used to be in a gang (the reason I'm saving this story until you are older). Homeboy Industries is a Catholic organisation that helps and supports gang members to leave the lifestyle. Now that Inez is off all drugs and alcohol for three years and at Homeboy for about one, she sees her life is turning around after a gang career spanning two decades.
Inez came from a gang family. It was her father's dream that she and her siblings would be in the 'neighbourhood' too. Like any good child Inez followed in her parents' footsteps and got into crime and drugs, but as a good sister protected her siblings from it. In her early 20s, she ended up pregnant.
Luckily, her son's father, also a gang member, got out, found a job and was able to be a stable parent to their son.
Although Inez was always in her son's life, she wasn't able to be the parent she wanted to be until she left her past behind. Even when her teenage son gave her an ultimatum, to change or he was done, her addiction won.
Inez continued hustling and kept ending up in jail.
Finally, she had a wake-up call: a friend drank herself to death.
Inez realised she didn't want to die a nobody behind a rubbish bin, so she contacted Homeboy Industries. Now Inez is focused on doing the right thing. She goes to her son's football games and shows up for her brother and sister's kids also. To her the most important aspect of motherhood is being present and listening, even if she doesn't like the question or doesn't have an answer. As she builds a relationship with God in her life, she's introducing her son and nephews to him too.
But, Inez admits she still lets her son down.
'My son used to come to me and say, "Mom, I need this," and I'd get it for him in a heartbeat, because I was hustling I had the money or I'd steal it for him. When I got my stuff together, he came to me and ask for some football gear. I told him I didn't have the means to do it for him. He said, "What do you mean?" and he gave me a hard time about it. I thought to myself, "Either which way, I'm still going to get a hard time".'
After chatting with Inez, I was surprised that a mother who had made such a tremendous life transformation would feel guilty about what she does today, especially when it's about doing the right thing and being a good role model. But I was wrong. I think in motherhood we love our children so much we want to be, do, know, and encompass everything our children may possibly want or need, but that is just not realistic. That's God's job.
So, Charlotte, as much as it pains me to admit, I will disappoint you. I may not be a genie in a bottle ready to make your every wish come true, but like Inez, I will listen, try to be present and introduce you to a power that is much greater than me. And in the end, I know this will be enough – although I may still feel a teeny bit guilty.