A colourful box of hope – Susanah Bishop
In Australian churches, there is a colourful little box that makes its appearance at the start of Lent each year. It's a small box made of cardboard about six inches tall and three wide, conspicuously present near the hymn books at the back of the church.
The boxes usually feature an image of one or more people smiling, communicating a joy that cuts through the sobriety of the Lenten season. It's the Project Compassion box, which makes its bright appearance across Australian parishes through Lent, a symbol which promotes the small ways we can effect sustainable change across the world.
This year marks the 50th anniversary of this fundraiser run by Caritas Australia. The Caritas Internationalis network (of which Caritas Australia is a part) works in over 200 countries, preferring to work closely with local communities, providing education and training, and empowering people to become the architects of their own development and progress.
Caritas aims to be an 'ongoing demonstration of the faith, love and generosity of caring supporters in the name of justice and peace'.
Through effective partnerships with local communities, Caritas Australia's major fundraiser Project Compassion promotes sustainable development, upholding dignity and overturning extreme poverty; recognising, enabling, and building upon a community's own strengths and skills to drive their own futures.
A key approach to this vision is that of education, and this year, on the fiftieth anniversary of Project Compassion, and within the Jubilee Year of Mercy, the theme is 'learning more, creating change'.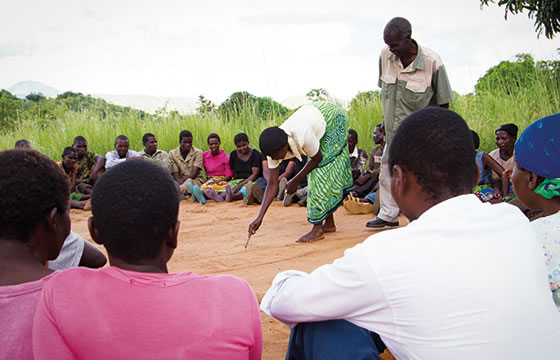 Project Compassion releases a series of videos each year for use in schools, parishes and communities to show the specific way that Caritas partners work with locals. This year, the model of change is evidenced in a small village in Malawi through the implementation of training and education programs which have seen a community transform themselves for the better.
Doney, a local woman whose education had gone no further than primary school, saw herself as an active instrument in the development of her community through becoming a trained facilitator in Adult Literacy through CADECOM (Caritas in Malawi). Her skills and strengths in service of her village saw her community advance towards literacy. True to Pope Francis' philosophy that 'education is an act of hope', Doney's village has found a vision of development which encompasses learning new livelihood techniques such as water sourcing, bee-keeping and efficient cultivation of the soil, which has led to a more sustainable economy, and hope for the future.
Together with education and training programs, CADECOM provides encouragement and financial support through loan schemes for business initiatives within communities, further enabling skills and strengths within the villages to take off and flourish.
Doney's husband, for instance, is now a tailor and is able to earn enough to provide his children with education, which is Doney's vision for the future of her family.
Through the Project Compassion appeal, Caritas Australia has been able to reach out to communities in over 40 countries across the world – transforming poverty and misery into hope and dramatically improving the lives of millions of people within the most marginalised communities.
Paul O'Callaghan, CEO of Caritas Australia, said that these actions are a true witness of mercy and compassion.
'With continued generosity, together we can live the mercy of God, being faithful and steadfast in our love for our sisters and brothers,' he said.
Through continued support from parishes and schools, Caritas can keep living its name to the full, 'showing solidarity with our global family at a time when there has never been a greater need to assist those who are suffering and are marginalised; bringing love, care and compassion to those whose hope is buried beneath extreme poverty and hunger.'
It is a small box, simple and unpretentious, hidden amidst dusty hymn books and bulletins. Sometimes it's empty, but often it's heavy with coins; a few cents or a dollars tinkling into it as parishioners file in for Mass. This loose change may otherwise buy a drink or a pen, sit aimlessly in a pocket, or pay for a few minutes of parking. Yet to people in countries like Malawi, it is anything but loose change. To them, and to all those whose communities have benefited from Project Compassion's fund raising, our loose change is a life change, our small box is a promise of hope for a future of dignity, prosperity and joy. Like a mustard seed, the little box can become a great gift.