A spiritual 'HOME' – Rosie Hoban
Fr Peter Day doesn't mind taking on unpopular causes. His writings attest to his willingness to challenge anyone, including church leaders, when he thinks truth is in jeopardy. He has written with compassion, and sometimes anger, at the response of some in the Church to the child abuse tragedy, and last year he threw his two cents' worth into the Family Synod debates. But even Peter was surprised when he first thought of creating a home for the long-term mentally ill.
A priest of the Archdiocese of Canberra and Goulburn, Peter first thought of creating a home for those with mental illness during a regular meditation gathering at St Raphael's Church, Queanbeyan in 2004.
'I played around with the idea for 30 or so minutes before I left the church and resolved to forget about what took place. I figured if it was something genuine it would re-emerge,' Peter said.
Within a couple of years Peter's vision had attracted the patronage of former Governor-General Sir William Deane, a swag of philanthropists, a team of committed friends and even strangers 'who were willing to go on a crazy ride'. It helped that in 2007, as Kevin Rudd ran for office, both Liberal and Labor governments were willing to contribute generously to HOME.
A dream team of people agreed to work alongside Peter to get HOME off the ground. But Peter has no doubt it was more than that.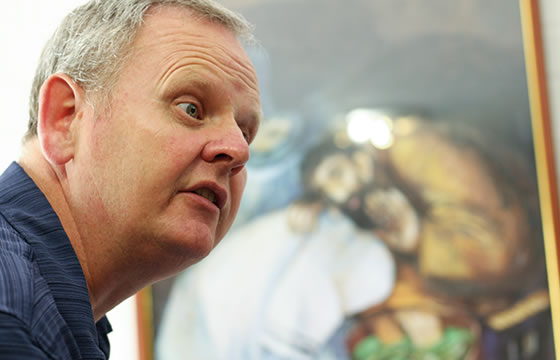 'It may sound a bit corny, even pious, but it was as if Jesus was whispering and I happened to be passing by and heard the whispering. I believe that the vision for HOME tapped into a community hunger to do something,' he said.
'HOME is a God thing. From the start I thought that if it got off the ground it would be a miracle – but I always knew it would happen because it had to.'
Everyone, donors, strangers and friends, who threw their support behind HOME were right. Almost 12 years down the track the idea continues to provide accommodation for 19 men and women, aged 27 to 64 years, in a village atmosphere in Queanbeyan. From his meditative musings in 2004 things moved quickly thanks to the extraordinary commitment of a handful of 'animated' people. They managed to attract support from across the community. But at the heart of all the planning was God. And that's what makes HOME such an extraordinary place, different to many accommodation facilities for the homeless, or for people with enduring mental illness.
HOME, which opened on 1 July, 2010, aims to provide a supportive, loving home for people with enduring mental illness who cannot live independently, or are at risk of homelessness. Each has his or her own self-contained apartment. Peter lives in an apartment as the caretaker, and there's also a house lived in by a family who provides a back-up caretaking role. Peter's role in the HOME community is pastoral, offering friendship and support, but no therapeutic care. That's provided by external agencies and services. Residents have a home for as long as they want.
'We recognise that people need more than just a house and meals, they need regular loving care and support, too,' Peter said.
Peter gained an insight into and understanding of mental health during his training for the priesthood in the early 1990s when he lived and worked for eight years on the streets of inner-city Sydney. Mental illness was hard to ignore in such a raw environment. It has been more than 20 years since he began that work. While many things have changed, including the building of HOME, the stigma around mental illness remains.
'While I do think there is greater awareness of mental illness, I don't think that has necessarily translated into action, or better outcomes. Anyone with a mental illness, and their families, will attest to that. So for many carrying the weight of mental illness, finding long-term and secure accommodation is just as difficult as ever,' Peter said.
HOME has changed the lives of the residents, just as it has changed the lives of Peter and those who support the organisation.
'We are inspired by Jesus' love and respect for the marginalised: a love that pays no regard to religious/political/social affiliation,' the HOME flyer reads.
'I am always reflecting on this ministry of working with people on the margins because there can be a lot of kudos in it, which, if we're not careful, can also be quite seductive. We must regularly ask ourselves, "what am I in this for, is this about me or is it about the other?",' Peter said.
'If we do social justice without prayer and contemplation underpinning it then there's a risk that it can be a bit of an ego trip. We have to keep coming back to God's love through contemplative silence; otherwise we just become rudderless doers.'
Holding God at the heart of HOME will be a challenge, especially once the founding fathers and mothers leave. Some practices, such as an annual retreat for board members, are in place and that prayerful and reflective experience helps inform the day-to-day operation of HOME.Ensuring that this leadership experience trickles down the line to all staff will be an ongoing challenge.
'We can't ever be afraid to say that God is at the heart of our work here at HOME, because it was founded on the vision of Christ,' he said.
Peter is also the assistant parish priest at St Gregory's parish in Queanbeyan, covering the areas of Bungendore and Braidwood, where he says Mass and provides pastoral care to those communities and schools.
At HOME he is a presence, adding to the calm, peaceful and loving community that has been nurtured with great care and intent.
'I really do love being here. Like any family home there can be conflict and people are challenged if that's necessary. But it's working. I sometimes wonder how it all came together, but it did.'
HOME relies totally on the generosity of the community. To donate: please phone 0412 460 308 or visit www.homeinqueanbeyan.org.