God is my GPS – Chris Gleeson SJ
In early September I was reading the Weekend Australian magazine over breakfast when I came across an article on Israel Folau, the much acclaimed fullback for the Australian Wallabies Rugby Union team. A very religious man, he declared unambiguously to the columnist: 'God is my GPS'.
For someone who has discarded the old Street Directory and put his faith in the global positioning system on his mobile phone, this statement made a great deal of sense.
Not that my faith in the strange voice of the GPS is complete, but the idea of God as my compass, my map and direction finder seems to be an excellent challenge and aspiration for all of us.
Those of us who find inspiration in the words and actions of Pope Francis might expect him to have come out with something like this statement himself.
After all, he has reminded those of us working alongside young people today that 'we need a new language, a new way of saying things. Today, God asks this of us: to leave the nest, which encloses us, in order to be sent'.
Surely the statement 'God is my GPS' is what he means by 'a new language'? I will be presenting soon to the staff of a Sydney Catholic school with the motto Deo Duce, (literally 'With God as our Leader'), and I will certainly invite them to consider Israel Folau's words as their new translation.
Closely aligned to this notion that God is my GPS is the Aboriginal idea of Songlines, which Bruce Chatwin writes about in his book of the same name.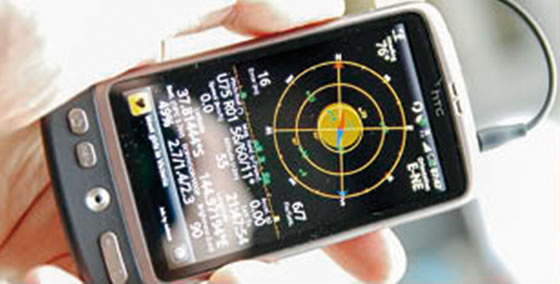 'Each totemic ancestor, while travelling through the country, was thought to have scattered a trail of words and musical notes along the line of his footprints, and … these Dreaming-tracks lay over the land as "ways" of communication between the most far-flung tribes.'
'A Song,' Arkady said, 'was both map and direction-finder. Providing you knew the song, you could always find your way across the country.
'And would a man on "Walkabout" always be travelling down one of the Songlines?'
'Yes!.'
Isn't this a beautiful image for finding our way in life? Would it not be wonderful if we could scatter a trail of words and musical lines along the path of our footprints? For us as Christians, of course, we have our writer of Songlines in Jesus who tells us in John's Gospel: 'I am the way, the truth, and the life … I am the vine, you are the branches.' We can resonate easily with the disciples who declare in the earlier chapter 6 of John's Gospel: 'Lord to whom shall we go? You have the words of eternal life.'
Concerning Pope Francis, our own Fr Frank Brennan SJ has written in his latest book, Amplifying That Still Small Voice: 'Fasten your seat belts. We are in for an exciting ride with this Pope. He is happy to make mistakes. He is happy to go with the flow. But above all, he is so happy in his own skin' (p.16).
It is so true. Rarely a day goes by that the Pope does not extend a challenge to us. Indeed, he has nominated 2016 as the Jubilee Year of Mercy, which he sees as 'the beating heart of the Gospel'.
In Evangelii Gaudium he writes: 'The Church must be a place of mercy freely given, where everyone can feel welcomed, loved, forgiven and encouraged to live the good life of the Gospel.' Here are four good yardsticks by which we can measure the quality of mercy in our communities – our capacity to welcome, to love, to forgive, and to encourage.
When proclaiming the Jubilee Year, Pope Francis expresses his 'wish that the Jubilee be a living expression of the closeness of the Father, whose tenderness is almost tangible'.
Appropriately, this lovely word 'tenderness' keeps bobbing up in all his words introducing the Jubilee year. 'How much I desire that the year to come will be steeped in mercy, so that we can go out to every man and woman bringing the goodness and tenderness of God. May the balm of mercy reach everyone, both believers and those far away, as a sign that the kingdom of God is already present in our midst.'
During his visit to Cuba in late September, Pope Francis even talked about a 'tenderness' revolution. At Mass celebrated before the Shrine of Our Lady of Charity of El Cobre, Santiago, he said: 'We are asked to live the revolution of tenderness as Mary, our Mother of Charity, did … Our revolution comes about through tenderness, through the joy which always becomes closeness and compassion and leads us to get involved in and to serve the life of others … '
Let us pray that we can be the carriers of tenderness throughout this coming Jubilee Year of Mercy. Let us recognise those moments of grace, when our souls are moved by tenderness given and received. As I have written previously, using the words of Ron Rolheiser OMI, these tender moments are moments of prayer: 'Moments which somehow soften the heart, moments which put us in touch with our vulnerability, our tenderness, our sense of compassion and hospitality, and our connectedness with each other and our common struggle.' (From: Forgotten Among the Lilies – Learning to Love Beyond Our Fears.)
It is an excellent Ignatian way of proceeding, of course, to take those tender moments and allow them to make our hearts mellow and grateful. Indeed, it makes for a simple Examen prayer, a day-by-day reminder, to rewind, review, and if need be, realign our path.
Savour those tender moments, those sacramental moments, and let them be your GPS. After all, the Good Lord is leading you therein.